By the OS2O Design Team,
Is it possible to have water repellency and wind protection without having to use a membrane fabric?
STORMFLEECE™ PRO fabric uses patented Singtex® technology to create a high-performance single-layer fabric (without membrane) capable of resisting wind and rain, as well as offering excellent thermal insulation, high breathability, resistance and a comfortable and soft to skin.
The versatility and innovation of STORMFLEECE™ PRO technology does not allow us to develop products that respond to the challenges and needs of FAST&LIGHT athletes and allows us to develop a collection of fully functional garments that can be worn from the valley to the top and back. A single garment, a single fabric, all the protection.
Multifunctional construction
The STORMFLEECE™ PRO fabric has been created by combining different spinning techniques and its innovative construction allows for a fabric that makes the most of the strength and flexibility of the fibers. The result is a resistant fabric on its outer layer and soft and comfortable on the inside. Two properties that are obtained in a single layer, this allows to reduce the weight and volume of the products considerably.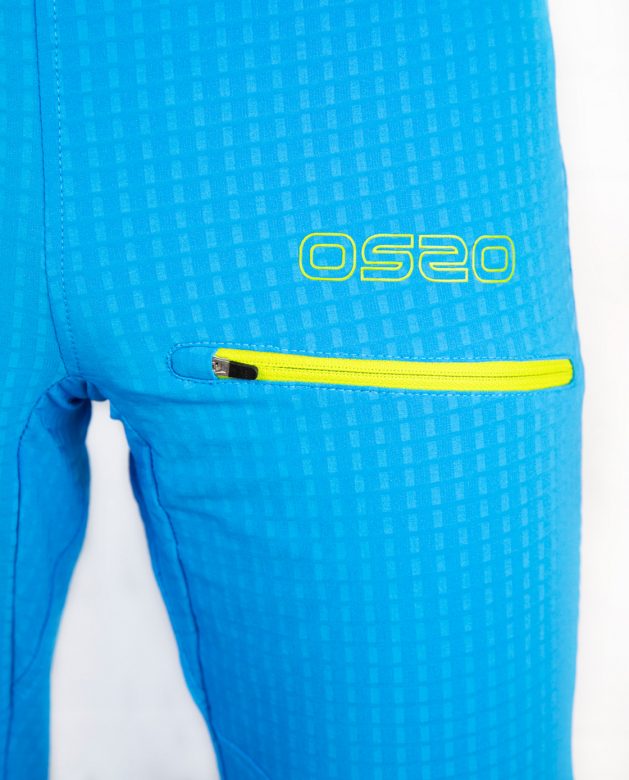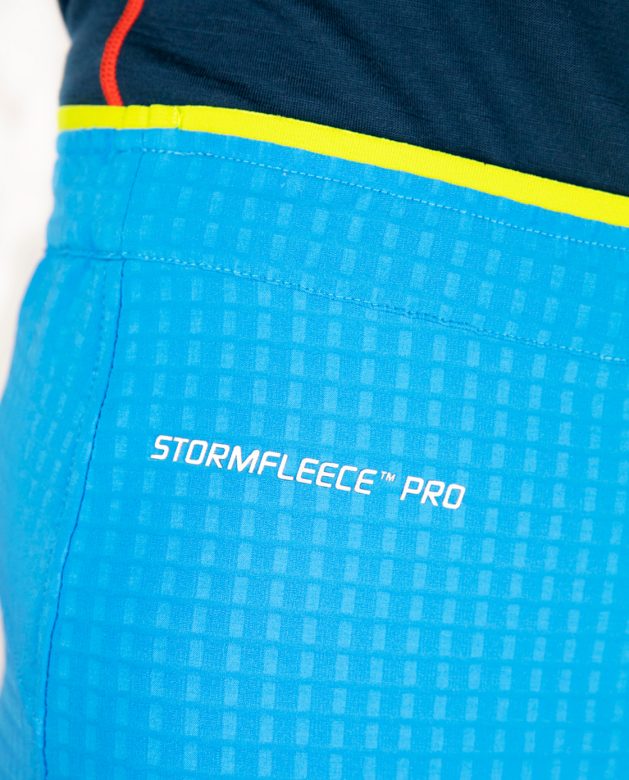 Recycled yarn, sustainable production
The base of the STORMFLEECE™ PRO fabric is polyester yarn, this allows the use of recycled yarn and its innovative construction with a very dense surface on the outside as well as offering excellent windproof capabilities. In addition, it considerably reduces the consumption of material in its production and minimizes the waste of fibers and yarns in its production and especially in its daily care. Fabric developed under the BLUESIGN® System Partner system.
Smart use
The OS2O FAST&LIGHT powered by STORMFEECE™ PRO line allows the development of lightweight, resistant and technical single-layer products. They offer full functionality for different climatic environments. It's easier to care for and in case of tissue breakage the repair can be carried out easily, increasing the life cycle of the product. OS2O products with STORMFEECE™ PRO fabric can be DWR treated as needed, reducing water waste.
In this season 22/23 we will introduce the Meteor STORMFLEECE™ PRO Pants and the Meteor STORMFLEECE™ PRO Women Pants using this innovative material in the world of technical fabrics.